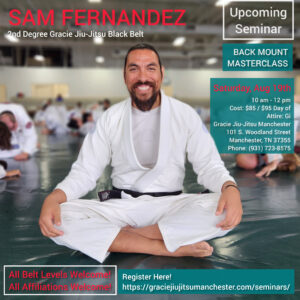 Sam Fernandez is a 2nd Degree Gracie Jiu-Jitsu Black Belt and one of the head instructors teaching at Gracie University Headquarters in Torrance, California. Sam will conduct his Back Mount Masterclass seminar on August 19th from 10 am to 12 pm. This is the first time one of the Gracie Jiu-Jitsu Black Belts from Gracie University Headquarters has taught a seminar in Middle Tennessee. All belt levels and affiliations are welcome. We hope to see you on the mat!
Gracie Jiu-Jitsu Manchester students can enroll and pay at the front desk.
Students from other schools and affiliations should send an email to [email protected] with their name, email address, phone number, and if applicable a list of students that will be coming with them. Registration is not final until payment has been received. Payment can be made below for individual or multiple students. Capacity is limited so reserve your spot as soon as possible. The Cost is $85.oo Per Person with pre-registration and $95.oo the day of if there is capacity.
When you arrive you will need to sign the registration documentation.